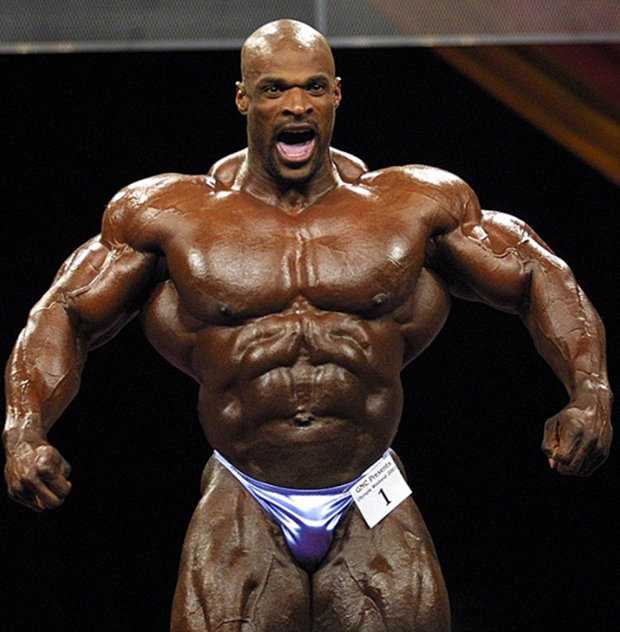 Ronnie Coleman - 8-fold Mr. Olympia and one of the most powerful athletes in the history of bodybuilding. Coleman's uniqueness lies in the fact that unlike other multiple champions of Olympia, he won his first statue of Sandov not at once, but only after years of struggle for the championship title. And then he managed to become the best eight times in a row, which in general goes beyond all the historical records in this tournament. The same result was achieved only by Lee Haney.
At his first victorious Olympia in 1998, Ronnie looked phenomenal, it was truly a breakthrough of the year, the best achievement in the bodybuilding world of those years. But what caused such an impressive transformation of the athlete, which many initially did not take seriously as a real competitor for the title of Mr. Olympia? Ronnie Coleman found the key to his physiology, by trial and error he groped for that training system that operated on him incredibly effectively. And only then, from year to year, I trained precisely according to this scheme, practically unchanged, becoming more and more. When, before the next tournament, Mr. Olympia, journalists asked him about the changes in the training mode, Ronnie replied that he had not changed anything, why change what is working.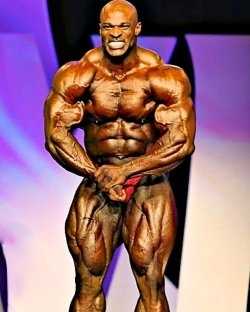 Ronnie Coleman The road to the summit began in 1992, when Ronnie Coleman first appeared at the main competition in professional bodybuilding. Then the future king of bodybuilding few impressed, not even in the top ten, taking a place below the 15th. Certainly, it can not be called a loud start, nor about any brightest appearance, like some other superprofits, there was no question. But Ronnie did not embarrass, he continued training and searching for the right system. In 1993, Coleman missed Olympia, realizing that he was not ready for a full fight for the title. The speeches of 1994-95 did not bring the expected results, Coleman became only 15th and 11th. The first results were noticeable at Olympia 96, when Ronnie suddenly breaks into 10-ku and is in the top six, performing in the finals and finishing 6th. In 1997, Ronnie "slips out" a bit, taking 9th place in the ranking of the world's strongest athletes. And here in this period of time, between 1997 and 98th years, in the career of Coleman there are significant changes. His triumphal procession begins with the Grand Prix of Russia 97, where in the finals he defeated Kevin Levron, who had always won him before. Then Coleman wins a professional tournament in Toronto, the tournament "The Night of Champions 98", while significantly improving the shape and becoming more and more. When he appeared on Olympia 98, it was already quite another Ronnie Coleman. His unreal appearance, he shook the fans and judges, and won the first title, Mr. Olympia in his career. And everything else is history.
Ronnie Coleman - Mr. Olympia 1998.
So, which system worked for Coleman by 100%? Periodization of training, alternation of strength training and pumping with a large number of approaches and repetitions. Although many Methodists called the Coleman system a completely new type of training, rather than a simple periodization. Ronnie himself later recalled that when he began training, he was a pure security official, he always trained exclusively for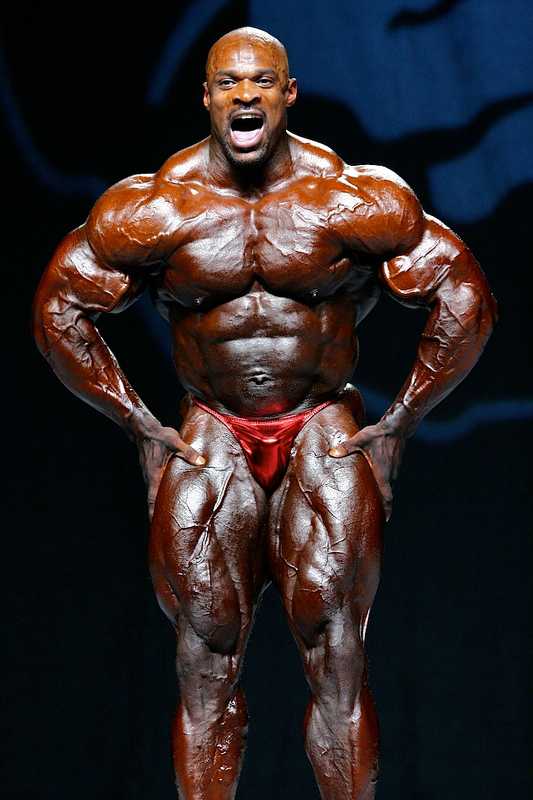 strength, with big weights, regularly performing three powerlift exercises: bench press on a horizontal bench, sit-ups and stall. (And, he continued to do powerlifting in the new scheme, as he is convinced that they have an excellent influence on the growth of the total mass of muscles.) Then, over time, Ronnie decided to add exercises with light weights to his power complex and immediately began to notice the new progress in the growth of muscle mass. When Coleman fully applied this method during the period 1997-98, his muscles literally "exploded", in just one year he achieved such progress, which he would have taken many years before.
Of course, Ronnie Coleman's program is only for advanced athletes, whose growth potential is already thoroughly exhausted from the usual methods. At the same time, it is not necessary to perform such a large number of approaches. In the power period in the exercises you can perform 3 sets and 4-6 repetitions in each. In the pumping period, instead of five doing four sets with the same amount of Ronnie Coleman's training program, as in the table. The power and pumping periods, divided into 3-9 weeks - this is the most optimal option, since such a small takeoff allows you to place here such factors as genetics, training experience, the ability to recover after heavy loads, life stresses, etc. Too tight with a period of light training is also not worth it, it plays the role of a refreshing variety and rest for ligaments and joints, as well as for the development of muscle fibers reacting to pumping, but all serious work to build strength and mass is carried out in the power section of the program. An indicator of the fact that it's time to work with heavy weights is the body itself, when it comes to training with large weights in exercises.
The program of Coleman for the majority can be too frequent in terms of training days, because for progress here it is necessary to restore adequately.
But some of the nuances can be noted and applied in other schemes, and most importantly, it is the principle of periodizing the loads with a division into "hard" and "light" days, when the muscles are constantly experiencing positive stress and reacting to training with qualitative growth.